Job Discrimination Complaints Hit Record High
Reported by Aaron Kase for Lawyers.com.
Claims of job discrimination have risen over 20 percent since 2007 to a record 99,922 last year, an increase observers attribute to the continually lagging economy.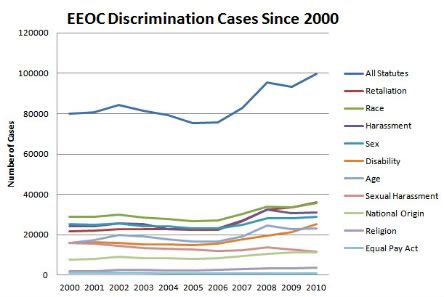 Compensation collected by discrimination victims through settlements and lawsuits has risen as well, to $404 million, a 17 percent increase since 2007.
"I think has to do with the economy," says attorney Steve Simas of Sacramento law firm Simas and Associates. "Employees are more motivated to bring complaints because they're unhappy."
While more claims have been filed, a smaller percentage have been successful. In 2010, 19.2 percent of complaints were resolved with outcomes favorable to complainants, a figure that has dropped each year since a high of 22.2 percent in 2007. However, the total number of merit resolutions has risen over that period, from 16,598 in 2007 to 20,149 in 2010.
Discrimination on the job refers to employees experiencing prejudicial treatment based on their age, race, sex, religion, disability or various other categories protected by federal, state or local statute. Statistics cited here refer to charges made to the federal Equal Employment Opportunity Commission, and do not include other complaints made to state or local anti-discrimination bodies.
Employees Getting Payouts in Discrimination Cases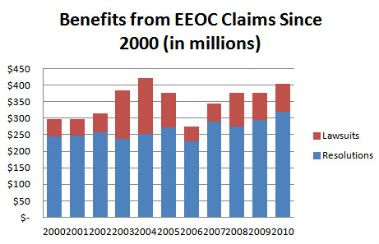 A number of cases have been resolved recently in employees' favor. In Detroit, a printing company agreed to pay $55,000 to settle a suit alleging the company fired an employee who was undergoing chemotherapy treatments for cancer. Because the employee was still able to perform his job functions on a part-time basis, his termination would likely have been found in violation of the Americans With Disabilities Act.
In Minnesota, three state agencies were ordered to pay $574,000 for denying standard health and dental insurance to retirees over age 55, a violation of the Age Discrimination in Employment Act. And a former receptionist for the city of Sauk Rapids, MN, received a $31,000 settlement for gender discrimination, after female employees were forced to remain on furlough longer than males.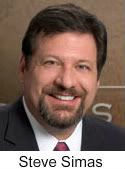 "If an employee believes they're discriminated against, they should document it, possibly consult legal counsel and avail themselves to the investigational process of their employer," Simas explains. Hiring a lawyer is not necessary to bring a complaint before the EEOC or local body, but may be advisable for complainants to ensure they follow proper procedure and don't inadvertently limit their options for resolution.
Simas cautions employees to be sure their prospective discrimination cases are based on treatment specifically related to a protected status, not just a situation where a boss is being unfair or unreasonable. "Make sure the complaint is specific enough," he says. "It is not illegal to be a jerk."
Indeed, 64.3 percent of EEOC resolutions last year found the complaint to be without reasonable cause.
Employers Responsible for Non-Discriminatory Workplace
Discrimination cases often deal with disputes over compensation, promotion or termination, but even an off-hand comment can open an employer to liability. "Don't make any reference to the status or protected classification of an employee," Simas says. "Religion, don't talk about it, or anything sexual or any innuendo."
Since the EEOC started taking complaints in 1965, race has been the most frequently filed charge every year until 2010. Last year, for the first time complaints of retaliation for discrimination proceedings overtook charges filed over race, with 36,258 retaliation charges compared with 35,890 race discrimination chargeds. The next highest categories were:
Sex discrimination with 29,029 complaints
Disability with 25,165
Age discrimination with 23,264.
The cumulative total of complaints based on specific statutes far surpasses the total figure of 99,922 because many charges contain multiple types of discrimination).
When in doubt, employers should err on the side of caution and professionalism. "If it's really funny, don't say it," Simas says. "Someone's going to not think it's funny, and there you go."
For both the employer and employee, it's important to document instances of real or perceived discrimination to build a case for a potential complaint or lawsuit. "Two years down the road when you're sitting in front of a jury, it's difficult to remember," says Simas. "Email is the smoking gun on a lot of these cases."
Additional Information on Lawyers.com:
Learn more about your legal issue on Lawyers.com
Find an attorney on Lawyers.com
Discuss your community issue on our Legal Forums
Did this article help you? If so, please consider sharing it with your friends and encourage them to become a fan of Lawyers.com on Facebook. Or follow us on Twitter to retweet to your friends/followers.
Download the Lawyers.com app for the iPhone or access the site on your smartphone
Discussion